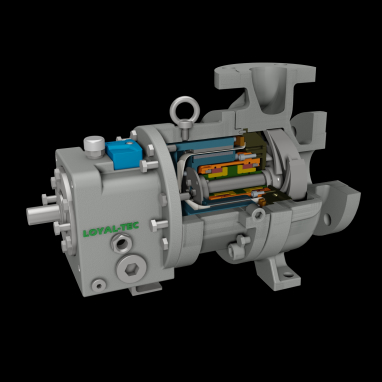 Revolutionary idea of non-seal pump configuration just by simple change power end unit to MGC, your original pump can immediately upgrading to non-seal.
Without change casing, impeller, foundation and piping, original seal power end unit can interchangeable for spare.
Through MGC upgrading, all pumps from various makers inside a factory could have interchangeable power end accessory, Including of magnetic coupling, containment shell, bearing cartridge, bearing frame.
Bearing cartridge
The cartridge design sleeve bearing simplified maintenance, silicon carbide fill carbon material intensify dry running capability.
Hydraulic balance device
Proper optional hydraulic balance device on high pressure service, such as balance disc or self adjustable moving clearance.
Strainer plate
Optional strainer plate for slurry service which hardness higher than bearing material, slurry automatic clean by impeller back van cyclone flow.
(* Only applicable for impeller with back van design. )
Rotor axial position adjust device
The standard rotor axial adjust device allow MGC to fit any axial gap or clearance of pump design.